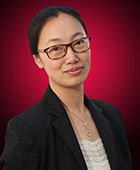 Victoria Yang
Lawyer
Contact
Phone:021-61289708
Fax:021-61289709


3005 City Gateway, 398 North Caoxi Road, Xuhui, Shanghai, China, 200030
Lawyer said
Victoria Yang, rney of Shanghai Sattorney at low in China and senior attohenyu Law Firm, Graduated from a Law School of Bohai University and Shanghai Fudan University, holds a bachelor's degree in law, holds a lawyer qualification certificate and a professional qualification certificate for enterprise legal counsel. Victoria yang is a member of Shanghai Lawyer Association, and a member of Shanghai Enterprise Legal Counsel Association.
Victoria Yang has rich experience and well-trained skills in legal practice .She once served as the legal affairs of Lipeng group in Hong Kong. She is the legal consultant of the listed company Hongrun Construction Group Co., Ltd., and to be familiar with enterprise legal affairs management and risk control. Victoria Yang has been engaged in legal work for more than ten years.
The lawyer team
Shenyu is among the premier national and international law firms based in Shanghai, China. We thrive on complex cases and litigations of all types. Our practice focuses on international trade, maritime shipping, corporate governance, intellectual property, family and succession, banking, insurance, commerce, healthcare, personal injury, employment, and public policy. We build, nurture, and deliver a wide spectrum of legal expertise to clients of all sizes - from startups to China 500 companies to closely held corporations and individuals. We provide strategic and innovative legal solutions with worldwide capabilities and local execution, as demonstrated in our multi-jurisdictional collaborations with law firms in regions such as in the U.S., Germany, Italy, Belgium, Kuwait, Hong Kong, and Taiwan. By uniting diverse lawyers who offer specialized practice and comprehensive legal knowledge, we are dedicated to deliver exceptional quality of legal work to our clients.